Google's 'Project Tango' Smartphone Uses Apple's PrimeSense Technology
Earlier this year, Google unveiled "Project Tango," an experimental smartphone that incorporates 3D sensors to allow users to map indoor and outdoor environments.
Reports suggested that the smartphone's 3D capabilities were powered by the Movidius Myriad 1 3D-sensing chip, but as it turns out, Project Tango is also powered by Apple technology. Alongside two Myriad 1 vision co-processors, Project Tango utilizes a PrimeSense Capri PS1200 3D imaging system-on-a-chip [PDF], technology that Apple acquired when it purchased PrimeSense late last year.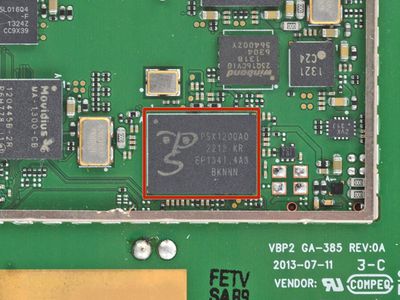 The unexpected PrimeSense chip was discovered in a teardown of the Project Tango smartphone by iFixit that was posted this morning.
This appears to be PrimeSense's new Capri PS1200 SoC 3D imaging chip, unexpected for a couple of reasons:

Just last year, Apple bought PrimeSense, manufacturer of the Kinect's 3D vision hardware. Speculators assumed we would be seeing this hot new hardware in an upcoming iOS device, with intent of mapping 3D spaces. Looks like Tango beat Apple to the punch with their own tech?
Google's Project Tango smartphone is one of the first mobile devices to use the diminutive Capri 3D sensor and it offers a glimpse at what Apple could possibly do with the technology in the future.
Project Tango is essentially a mapping tool, capturing the world around each user to provide directions, dimensions, and environmental maps. Google also has plans to use the technology to create immersive augmented reality games and apps that merge the digital world with the real world.
According to iFixit, Project Tango works very similarly to the original Microsoft Kinect, which also used technology developed by PrimeSense. Tango displays a bright grid of dots that are captured by IR sensors to build a depth map.


Along with the Capri 3D chip and the Myriad vision co-processors, Project Tango incorporates four separate cameras to capture its environment. Amazon is said to be working on a similar device that incorporates multiple cameras for 3D mapping and with Google and Amazon both working on 3D projects, it is reasonable to assume that Apple is also experimenting with the technology.
There have been no hints that Apple intends to incorporate PrimeSense technology in the upcoming iPhone 6, but motion control capabilities similar to the Kinect have been rumored for the next-generation Apple TV set-top box, so the first Apple device to use PrimeSense technology may very well be the Apple TV. Project Tango proves that PrimeSense's 3D chips are ready for mobile devices and it is likely that the company is continuing development on its Capri chips, improving the technology for possible inclusion in future iPads and iPhones.