Microsoft Launches Office 365 Subscriptions Alongside Office 2013, But Macs Still Stuck on Office 2011
Microsoft today announced the launch of its latest Office software suite, updating its applications for Windows machines to new 2013 versions and launching a new Office 365 subscription option.
While the $99-per-year Office 365 option allows for installation on up to five computers, Mac users will continue to receive Office 2011 applications until an updated version of Office for Mac becomes available. Office for Mac versions typically follow about 12-18 months behind their Windows counterparts.
Office 365 Home Premium is available in 162 markets in 21 languages and includes the following:

- The latest and most complete set of Office applications: Word, Excel, PowerPoint, OneNote, Outlook, Publisher and Access

- One license for the entire household to use Office on up to five devices, including Windows tablets, PCs or Macs, and Office on Demand available from any Internet-connected PC

- An additional 20 GB of SkyDrive cloud storage, nearly three times the amount available with a free SkyDrive account

- 60 free Skype world calling minutes per month to call mobile phones, landlines or PCs around the world

- Future upgrades, so you always use the latest time-saving technology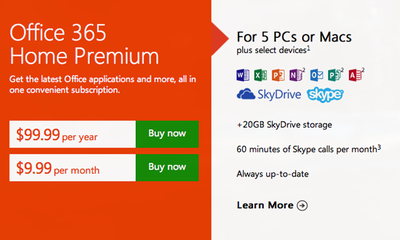 Office 365 Home Premium is priced at $9.99 per month or $99 per year, while college and university students, faculty, and staff are eligible for Office 365 University priced at $79.99 for a four-year subscription.
Aside from the Office 365 subscription plans, Windows users are also offered the option of standalone Office 2013 packages including Office Home & Student ($139.99), Office Home & Business ($219.99), and Office Professional ($399.99). There are no ongoing costs with the standalone installations, and a version of Office typically remains current for three years.
Office for Mac 2011 also remains available as a standalone purchase, and users who purchase Office 2011 for Mac between October 19, 2012 and April 30, 2013 can shift over to a one-year Office 365 subscription free of charge.