Apple Blocks Bloom.fm iAd Advertising Ahead of U.K. iTunes Radio Launch
London-based streaming-music service Bloom.fm says it has been blocked from advertising on Apple's iAd network because it is a threat to the Cupertino company's iTunes radio, reports CNET. Similar to iTunes Radio, Bloom.fm offers genre and artist-based streaming radio stations with a library of over 22 million tracks.
"We were surprised at Apple's decision to ban us from their iAd network as their iTunes Radio service isn't even available in the UK," the spokesman told CNET. "Bloom.fm gives you 22 million tracks for £1 a month -- the price of a single download on iTunes -- so I can see why they'd want to protect their business."
Apple may be blocking Bloom.fm as it prepares to launch its iTunes Radio service in the U.K. The service debuted in the U.S. alongside the release of iOS 7 last fall and was recently extended to Australia. It is expected to debut in the U.K. sometime in early 2014.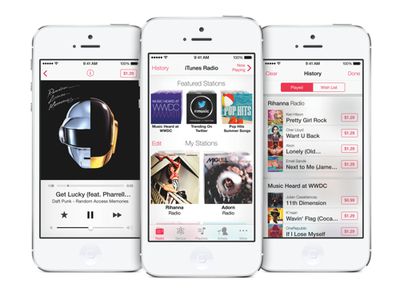 Over the past several months, some iPhone owners in the U.K. have reported intermittent connections to the iTunes Radio service, suggesting Apple is in the final stages of preparing the product for an imminent launch. Bringing iTunes Radio to countries worldwide is a top priority for Apple, says senior vice president of Internet software and services Eddy Cue, who confirmed the company plans to offer the service "in more than 100 countries."