Samsung's Goals for 2012: 'Beating Apple is #1 Priority'
Internal documents included in the second patent trial between Samsung and Apple last week revealed how Apple viewed Android, calling for a "Holy War" against Google and expressing concern about competition from larger-screened, lower-priced Android phones. A new set of documents reported by Re/code and AppleInsider reverses this perspective, showing how Samsung was laser-focused on Apple with the objective of beating the Cupertino company as its "#1 priority" in 2012.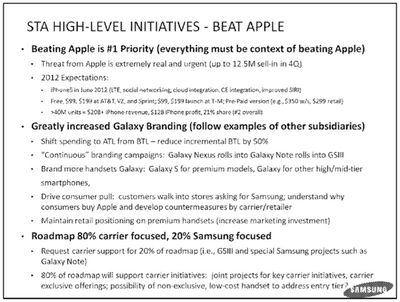 The internal document outlines the lessons Samsung learned in 2011 as it continued development on its Galaxy line of phones and faced a patent infringement lawsuit from Apple. Samsung considered the threat from Apple to be "extremely real and urgent" and communicated to employees that "everything must be [in the] context of beating Apple" in 2012.
Samsung listed the expected features of the upcoming iPhone 5 and predicted how Apple's iPhone would perform in the marketplace. The Korean company also detailed how it would boost its own Galaxy branding and work with both carriers and retailers to expand its retail presence to combat growing consumer interest in the iPhone.

Samsung also detailed a strategy of "continuous" branding campaigns where "Galaxy Nexus rolls into Galaxy Note into GSIII," playing upon Apple's consistent branding of iPhone across generations of its products.

"Drive consumer pull," Samsung's Galaxy branding document strategized, hoping that "customers walk into stores asking for Samsung." To get there, Samsung said it needed to "understand why customers buy Apple," and then "develop countermeasures by carrier/retail."
The documents reveal that Samsung shifted its product lineup to serve carriers with 80% of the company's product roadmap supporting carrier demands for joint projects, exclusive offers and low-cost handsets for entry-level consumers. Only 20% of its product lineup focused on high-end handsets like the Galaxy S3 and the Note II.
Samsung also spent billions on advertising to support its Galaxy phones with Apple-targeted ads that focused on iPhone line-waiters, Apple's Genius Bar and more. Samsung credits the company's 2012 "Next Big Thing" advertisements as "a tipping point" for the company's branding and claimed in its opening arguments last week that Apple was taken aback by the edgy marketing campaign.