Nest CEO Tony Fadell today published an open letter on the Nest.com blog announcing that effective immediately, the company is going to temporarily cease selling its multi-sensor iPhone-connected Nest Protect: Smoke + Carbon Monoxide alarm, which was first introduced in October.
According to Fadell, a recent laboratory test revealed that Nest Wave, a feature that enables the device's alarm to be turned off with a gesture, could potentially be used to turn off an alarm unintentionally, thus delaying the activation of the alarm in a real fire.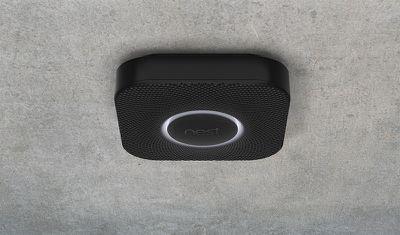 During recent laboratory testing of the Nest Protect smoke alarm, we observed a unique combination of circumstances that caused us to question whether the Nest Wave (a feature that enables you to turn off your alarm with a wave of the hand) could be unintentionally activated. This could delay an alarm going off if there was a real fire. We identified this problem ourselves and are not aware of any customers who have experienced this, but the fact that it could even potentially happen is extremely important to me and I want to address it immediately.
The company is immediately disabling the Nest Wave feature until the issue is resolved and while a fix is being worked on, sales of new Nest Protect alarms have been halted. Nest urges customers with existing alarms to connect them to a Nest Account (if they are not already connected) so the Nest Wave feature can be automatically disabled. Customers without access to WiFi can receive a complete refund for their devices.
Nest states that no customers have been affected by the potential issues with Nest Wave and that the steps it has taken to halt sales are a precautionary measure. The company estimates that fixing the issue will take two to three months.