Micron's LPDDR4 RAM May Improve Battery Life in Apple's 2014 Products
Apple's customers may receive a boost in performance and improved battery life from the company's 2014 products thanks to improvements in Micron's LPDDR4 DRAM technology, claims Matt Margolis (Via 9to5Mac).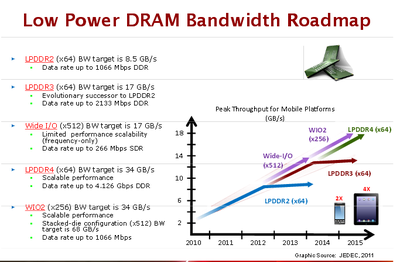 According to Margolis, Micron is ramping up production of its LPDDR4 RAM and will supply Apple with memory chips for its 2014 iPad, iPhone and Mac models, which are expected to debut later this year. Margolis believes a "mystery" $250 million payment Micro received for "product to be supplied through September 2016" is from Apple as part of a multi-year deal.
Apple is a current DRAM customer of Micron Technology, having last used Micron's LPDDR3 DRAM memory in 2013. Micron presented detailed benefits and product highlights regarding their LPDDR4 DRAM Memory technology almost a year ago. Furthermore, just yesterday Micron's Vice President of Wireless Solutions Marketing published an article highlighting the benefits of Micron's next generation DRAM LPDDR4, which tells me this technology is ready for the big show. Lastly, Micron received a mystery payment of $250m from one customer that was reported during their Q1 2014 conference call and their 10-Q indicates that the payment was "for product to be supplied through September 2016″.

Apple is in an arm's race to improve the performance of their mobile, tablet and ultrabook devices and improve overall battery life. There appears to be little doubt that Apple is going to be showing off Micron's LPDDR4 DRAM memory across their 2014 iPhones, Macbook and Tablets. You can take my word for it that Apple users are going to love how "lightning quick" the 2014 devices will be compared to the 2013 devices.
Though not confirmed, this transaction is plausible as Apple currently uses Micron's LPDDR3 DRAM in its 2013 models under the brand name of Elpida, a company that Micron acquired in July 2013. Even earlier, Apple reportedly inked a deal for DRAM chips with Elpida in 2012 that purchased half of the capacity at the firm's main manufacturing facility in Japan.
This new LPDDR4 RAM technology offers two times the bandwidth performance of the previous generation LPDDR3, while keeping power consumption low, claims Reynette Au, Micron's Vice President of Wireless Solutions Marketing, in an article at Wirelessweek.
These technological advancements in LPDDR4 RAM may complement Apple's 64-bit A-series processor, which powers the iPhone 5s, iPad Air and Retina iPad mini. Detailed analysis from Anandtech claims Apple's current A7 processor is so powerful that users are likely to encounter RAM bottlenecks and battery consumption limitations before overextending the CPU.