Apple Buys iFixit, and Other 2014 April Fools' Jokes
Today is April Fools' Day, which means readers should be wary of what they read online as much of it will be a gross hyperbole created in the name of fun. Today also marks Apple's 38th anniversary, with the company having been founded on this day in 1976 by Steve Jobs and Steve Wozniak.
Among the popular April Fools' Day jokes making the rounds today are the following:
Apple Acquires iFixit
Based on the number of tips we've received, iFixit wins the award for the most believable Apple-related April Fools' prank for 2014. The popular device repair company changed its entire website to announce that it is being acquired by Apple.
It's finally here. We're thrilled to announce that we are joining forces with Apple starting this summer. It has been an exciting adventure for all of us at iFixit, and we can't thank our dedicated community enough. Let's start our next chapter together.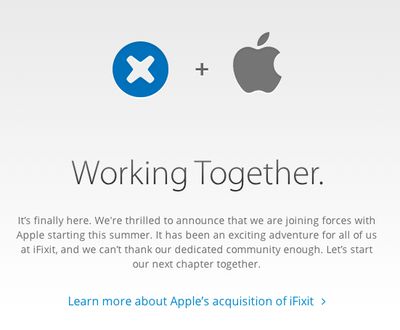 BookBook for iMac
Twelve South, which offers a popular line of book-themed iPhone, iPad, and Mac notebook cases, has introduced its largest version yet: BookBook for iMac.


SwiftKey "Flow Hard" for Physical Keyboards
Popular alternative keyboard SwiftKey, which recently began experimenting on iOS, announced "Flow Hard", a version of its gesture-input technology for physical desktop/laptop keyboards. The new Flow Hard is guaranteed to increase your typing speed and your overall productivity.
Nest and Virgin America Team Up on Personalized Airline Seat Climate Control
The now Google-owned Nest partnered with Virgin America to bring Total Temperature Control to airlines, allowing users to customize their own seat environment.
SelfieBot by Orbotix
Orbotix today unveiled the SelfieBot, a camera-equipped drone that hovers around you, capturing the best selfie moments you would normally miss. Always ready to snap a picture, the SelfieBot can be controlled by your smartphone or operate independently.
Google Chrome for iOS Adds Emoji Translation
Google has added support for emoji translation to its popular Chrome browser for iOS and Android. Instead of boring and bland text, users can capture the sentiment of each page through efficient and emotive illustrations.
Today we're announcing Google Translate support for Emoji, built directly into Chrome for Android and iOS. You can now read all your favorite web content using efficient and emotive illustrations, instead of cumbersome text. Our translation algorithm interprets not just the definition of the words on a webpage, but also their context, tone and if appropriate, facial expression. It then distills text into articulate, meaningful symbols so you can get more out of every screen.
MacRumors has not participated in April Fools' Day prank news stories on its regular news pages in past years, and has no plans to break from that tradition this year. All news stories posted on our front page, iOS Blog, and Mac Blog today are real.