Apple Begins Testing Related Search Suggestions Feature on App Store
As first spotted by TIME Planner developer Olga Osadcha on Twitter (via MacStories), Apple has begun testing a related search suggestions feature for some users in the App Store.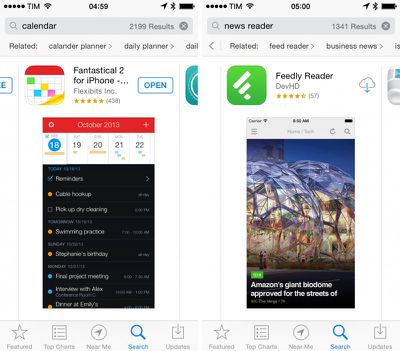 The new menu appears to overlay itself on top of an existing search query, giving users search suggestions in similar categories - for instance, searching for "calendar" gives related suggestions for "calendar planner" and "daily planner", while a search for "sports games" displays suggestions to "action games" and "RPG games".
The suggestions box also appears to extend to some searches for specific terms, as searching for "twitter" will result in suggestions for "news apps" and the like. Suggested searches can also lead to more sub-suggested keywords, which can be made up of general phrases and specific company and product names.
The results appear in a similar fashion to queries in Chomp, which was an app search startup acquired by Apple in 2012. It is therefore likely that Apple could be using some of the suggestion technology utilized in Chomp, as Apple's reported reason for acquiring the search engine was to improve the App Store search and app discovery. Apple added the single-tile styled result to the App Store in 2012, which was also based off of Chomp's layout.
Currently, Apple's new App Store search suggestions are not appearing for all users, however that is likely to change as the feature undergoes more testing. It is also possible that the new search suggestions will not require a full update for iOS, as Apple is expected to roll out the new feature on top of the App Store's existing interface.