Aspyr has updated Civilization V with support for the new Mac Pro, offering OpenCL frameworks to improve performance on NVIDIA and ATI chipsets in OS X Mavericks, as well as 4K resolution. The company says most Civilization V players should see faster game and visual performance as a result.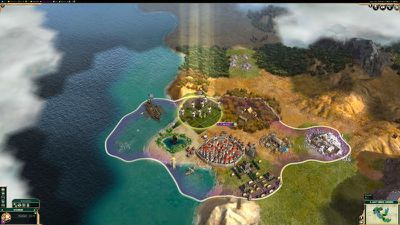 Click the image for a full-sized 4K screenshot
Civilization V
is available on the Mac from the Mac App Store [
$14.99
],
Steam
, and Aspyr's
GameAgent digital store
. The game is being offered for 50% off temporarily on the GameAgent store alongside the update.
Update 8:53AM PDT 3/21/2014: A prior version of this post claimed that Civilization V takes full advantage of both video cards on the Mac Pro, based on information provided by Aspyr via a blog post and press release. Aspyr has updated its blog post and reached out to MacRumors to issue a correction.
The Civilization V update does not utilize both video cards in the Mac Pro. An Aspyr spokesperson explained that the update "focuses on the OpenCL framework so that more processes are centered around the GPU, thereby reducing the overall memory footprint" and that the company "made the decision to focus on one card so that all other ATI and NVIDIA setups would benefit from the structure instead of JUST the Mac Pro."
We have also updated this post with a full-resolution 4K screenshot of Civilization V.