In a new video, former Apple marketing vice president Allison Johnson talked about marketing at Apple and what it was like to work under Steve Jobs. The interview, which took place at the 99U Pop-Up School last September (via Cult of Mac), covers words that were verboten at Apple -- "brand" and "marketing" among them -- as well as anecdotes about Steve Jobs, and some advice on marketing.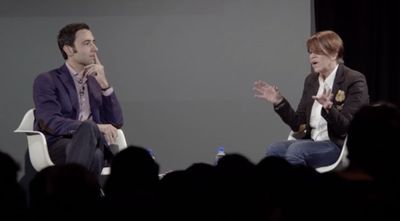 Johnson gave one example from the launch of the iPhone on AT&T in 2007. The carrier had written an email explaining to its internal sales team on how to properly sell the iPhone. Jobs asked to see the email and edited the email so the iPhone would be positioned correctly.
"He would dive in at a level of detail that most human beings would never consider," Johnson explained. "So, a CEO looking at a sales memo to an internal sales group at AT&T. He cared that much."
Johnson goes on to explain that Apple's product and marketing teams work closely together from early on in the design process. As a result, the Product Marketing team "understood deeply what was important about the product, what the team's motivations were on the product, what they hoped that product would achieve, what role they wanted it to play in people's lives". Because of this, Apple's marketing was greatly improved and on-target.
For external marketing and PR agencies that aren't involved as deeply in the development process, Johnson said, it's more difficult for them to position products well.
After Johnson left Apple, she founded West, a creative agency that works with tech companies like Anki and Jawbone.