Apple to Charge Fees for Out-of-Warranty Chat Support
Apple is planning to institute fees for users that are seeking online chat support for out-of-warranty products, reports 9to5Mac. The company has reportedly been working on a new web payment system that includes a paid chat support feature as well as a function allowing customers to schedule product repairs and replacements.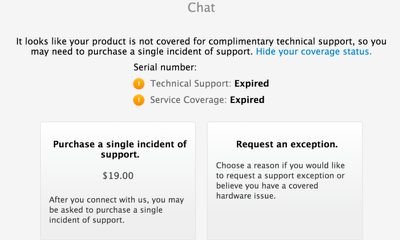 Currently, customers can use Apple Support's online chat feature at no cost to receive technical support on out-of-warranty products that are not covered by AppleCare, but the new rules would bring chat support under the same umbrella as Apple's phone support, which does carry fees for products with expired warranty periods.
All of Apple's products receive 90 days of phone support at purchase, which can be extended to three years with AppleCare. Customers seeking over-the-phone help for out-of-warranty products must pay a fee between $29 and $49. A similar fee of $19 will be required for chat support going forward, though users will be able to request an exception to the fee.
Apple has also developed a system that will allow customers to make payments via its support website, and that system will be used to set up hardware repairs and replacements via chat.
Using the new web payment system, we're told Apple plans to offer the ability to set up hardware repairs via chat that require a hold on a credit card or pay per incident fee. Rather than having to call in, users will be sent a link that's live for 24 hours in order to complete the payment.
Chat fees reportedly began appearing in August following Apple's support site redesign that introduced 24/7 live chat, but thus far, employees have been instructed to grant exceptions on all support requests up to the official launch of the paid service.
Apple's new chat support policies may go into effect as soon as next week, but the company will reportedly be waiving fees for iCloud issues and accidental damage cases where users are requesting to purchase repair or a replacement via chat.