Statue Honoring Steve Jobs Destined for Apple Headquarters Unveiled in Belgrade
A bust of Steve Jobs by famed Serbian sculptor Dragan Radenovic was unveiled in Belgrade today, the result of a competition covering more than 10,000 submitted works that will see the statue placed at Apple's headquarters in Cupertino.
The statue unveiled today is a maquette, a sculpture substantially smaller than the final version for demonstration purposes, that features Jobs' head at the top, with a pair of Cyrillic letters, the Latin letter A, and the binary digits one and zero. According to a report in the Serbian press [Google Translate], sketches of the proposed statue were sent to Apple executives, who said they were very interested in the sculpture and liked "the imperfections of his work".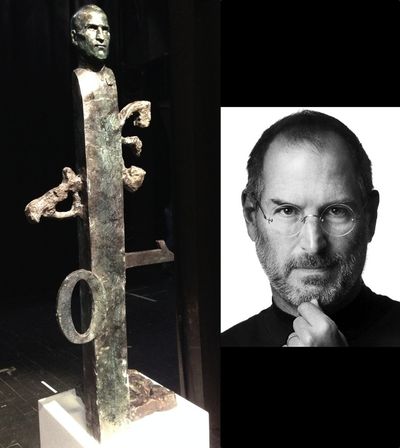 The statue features three letters, including the latin letter A, an older Serbian cyrillic letter similar to E from the Miroslav Gospel, and a cyrillic letter Ш at the bottom serving as an anchor for the statue. The sculptor, as translated by a MacRumors reader, described his letter choice as representative of a sort of "magnet".
I wanted to present some of the recognizable Serbian motifs such as a letter Ш which is the last letter of the Serbian alphabet and Apple rather liked the idea. I've also placed the Latin letter A and binary code 0.1 too. I've wanted it all to represent a sort of "magnet".
The sculptor will head to Apple HQ next to discuss the final version of the statue, which will be approximately 3 to 5 meters in height -- 10 to 16 feet -- and will be shipped to Cupertino upon completion.
Thanks Ivan!