Apple's Initial Sapphire Production to Target iWatch, Not iPhone 6?
Evidence has made clear that Apple is investing heavily in sapphire for its future products with the company working with partner GT Advanced Technologies to start production of the material in a new Arizona plant. Earlier reports suggested the sapphire is likely for the next-generation iPhone, but G 4 Games points to new reports from Asian supply chain sources speaking to MyDrivers [Google Translate] and PCPOP [Google Translate] claiming the iWatch will be the first Apple device to be equipped with the scratch-resistant material.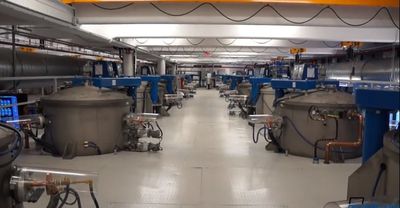 Furnaces for sapphire glass production
According to the reports, the biggest factor in using sapphire for the iWatch and not the next iPhone is cost, with the price of sapphire driving up the retail price tag of the iPhone. A price increase could be detrimental to Apple as the iPhone already has a premium price tag.
According to Chinese media sources (which are citing "Taiwan supply chain insiders"), Apple has put a lot of effort into fitting the next iPhone with a sapphire screen. These sources claim that "beta" iPhone units (read: some of the prototypes Apple is currently testing) are already sporting sapphire protected panels, but unfortunately, chances are that they will not make it on the final product.

The problem is not necessarily due to low yield (which still is a problem, at least until Apple's [Arizona] plant will be fully operational), but mainly because fitting a sapphire screen on the next iPhone would make its price skyrocket.

Fortunately though, the same sources also say that Apple will manage to fit sapphire screens on the rumored iWatch. The smartwatch is said to feature a 2 inch panel, and evidently, the production costs would be much lower.
Though the iWatch would certainly benefit from a sapphire layer to protect its display, the volume of raw material and equipment Apple is purchasing hints at much bigger plans than a 2-inch watch display. Apple allegedly has ordered enough furnaces to manufacture approximately 200 million 5-inch sapphire displays, a volume which would meet the yearly demand for its iPhone product line. In 2013, Apple sold approximately 150 million iPhones worldwide.