Imagination Technologies Extends PowerVR Licensing Agreement With Apple
Imagination Technologies today announced that it has extended its licensing agreement with Apple. The financial terms of the deal were not revealed, but Imagination confirmed the deal signed was a multi-year, multi-use agreement that provides Apple with access to the company's PowerVR graphics and video hardware.
Imagination Technologies Group plc (LSE: IMG, "Imagination") announces that Apple has extended its multi-year, multi-use license agreement, which gives Apple access to Imagination's wide range of current and future PowerVR graphics and video IP cores.

Under the terms of the above licensing arrangement, Imagination will receive on-going license fees, and royalty revenues on shipment of SoCs (Systems on Chip) incorporating Imagination's IP.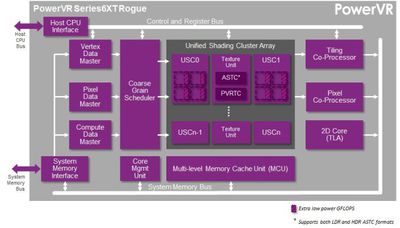 Imagination also recently announced its Series6XT PowerVR GPUs, which will replace the current Series6 graphics used in Apple's A7 chipset. In detail, the company claims that its newer GPU chips will deliver a 50% benchmark performance increase when compared to similar configurations of previous generation cores. The technology is expected to debut in devices sometime in 2015.
Apple has used Imagination's PowerVR graphics architecture in all of its iPhone models to this point, and is a major investor in the company with a 10% ownership stake.