Apple to Use 'Stepped Battery' Technology from LG Chem for iWatch
Apple will use lithium-ion batteries supplied by Samsung SDI, Tianjin Lishen Battery, and LG Chem for its upcoming iWatch, reports The Korea Herald. LG Chem in particular produces stepped batteries that are said to offer both greater longevity and greater flexibility, as they can be made in a variety of shapes.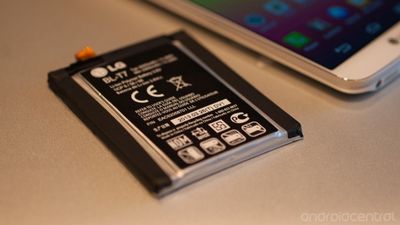 "Apple will utilize LG Chem's stepped battery since it offers better longevity than others and can be applied for different shapes," a source said, declining to be identified.
A stepped battery is similar to a traditional lithium-ion battery but it also includes an extra ridge or "step" on the back that increases the battery's capacity. According to LG Chem, the design boosts capacity by 16 percent, which results in three extra hours of battery life in the LG G2 smart phone. Apple would, of course, need to use a much smaller battery, but such a design could help it eke out extra longevity.
Battery life is said to be one of Apple's major iWatch developmental issues, with a report from last year suggesting the company was seeing just one to two days of battery life in prototype devices. Another January report indicated Apple is still having trouble reaching its target goal of four to five days of battery life.
Along with its efforts to increase battery life, Apple has also been experimenting with a number of effortless charging methods that could make it easier for consumers to charge their devices on a frequent basis. Inductive charging, for example, would allow the iWatch to be charged wirelessly, alleviating the need for a traditional cable charging method. The company has also investigated solar and movement-based charging, but it is unlikely these technologies will be included in the iWatch.
Apple's iWatch remains in the developmental stages, but the company reportedly has a multitude of employees working on the device. It has hired a number of health and fitness experts in recent months and it appears that the device could include an array of battery-intensive functions and health sensors. It is unknown when the iWatch might be released, but recent reports have suggested that late 2014 could be a target goal, possibly alongside iOS 8 and the next-generation iPhone.