In an email to customers, hardware upgrade company Sonnet has announced yet another shipment delay for its Echo 15 and Echo 15 Pro+ Thunderbolt docking stations. Unveiled in April 2013, the hardware is still in the pre-order stage. The latest delay is the result of a company decision to upgrade the device to support Thunderbolt 2.0.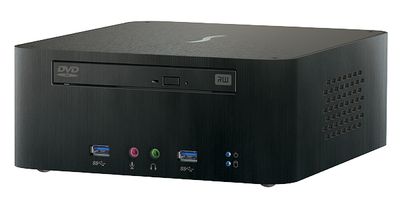 Following our last Echo 15 and Echo 15 Pro+ Thunderbolt Dock status update, we received very positive feedback and valuable input that confirms these products were designed with the right feature sets. However, there has been an increasingly louder chorus of requests for them to be based on Thunderbolt 2 technology. We carefully considered this input, and, combined with recent clarification of requirements for Windows Thunderbolt compatibility, we have decided to upgrade these products to use Thunderbolt 2 chipsets.
The Thunderbolt dock features a DVD or Blu-ray reader/burner, a 2.5" or 3.5" SATA drive bay (6 Gb/s) as well as a variety of ports for USB 3.0, SATA, eSATA, FireWire 800, audio input and output, and Gigabit Ethernet connections.
The Sonnet Echo 15 dock can be pre-ordered for $400 with a DVD drive and $450 with a Blu-ray drive. Different capacity hard drives are available as an optional add-on. The Echo 15 Pro+ starts at $550 while upgrading to a Blu-ray burner and adding space for a second solid-state drive.
(Thanks, Dan!)