The Argument for an 11.88-Inch Retina MacBook Air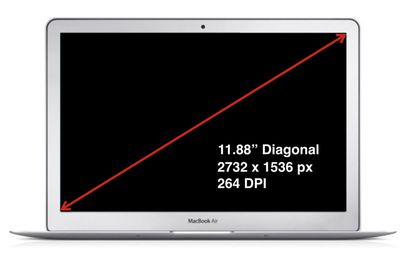 In October 2013, DisplaySearch analyst David Hsieh first revealed that Apple would be introducing a 12" Retina MacBook Air in 2014. The report was quickly corroborated by the reliable Ming-Chi Kuo.
It wasn't entirely clear at the time why Apple would choose to introduce a new 12" screen model, when their current lineup of MacBook Airs and Pros come in 11", 13", and 15" screen sizes.
Analyst Daniel Matte, however, lays out a convincing argument at his new blog on why Apple would choose that size. Matte believes that the new Retina MacBook Air will be exactly 11.88" in diagonal screen size, as that would allow Apple to offer a Retina Display (2732 x 1536, twice 1366x768) with the exact same PPI as the iPad Air (264 PPI). The full analysis is worth reading.
It would make sense for Apple to take advantage of the same display technology it has been utilizing for the 9.7" iPads by cutting their panels to this larger size.
Apple is quite deliberate in choosing screen sizes for their new products.
The earliest supply chain rumors of the iPad mini included the specific screen size of 7.9 inches. The reason for that particular size later became apparent as it similarly allowed Apple to use the exact same PPI displays that were used in original iPhone and iPod touch.
The main discrepancy in Matte's argument is that the original DisplaySearch report predicted a lower resolution (2304 x 1440). Also, in the past, we'd heard very specific display sizes from Apple's supply chain, such as the 7.9" iPad mini display rather than 8" iPad mini display. In this case, the early reports (so far) have been at 12-inches.
Still, the new Retina MacBook Air is not expected until mid-2014, so we should start hearing more as production starts ramping up.