Samsung Misses Earnings Estimates as Apple and Others Pressure Mobile Sales
Samsung's corporate earnings missed expectations and its mobile division saw flat growth year-over-year due to pressure from inexpensive rivals and Apple's new lineup of iPhones, according to an analysis of its fourth-quarter earnings by Bloomberg.
The Korean conglomerate reported net income of 7.22 trillion won ($6.7 billion), well short of the 8.2 trillion won that analysts were expecting. Operating income at the company's mobile unit, its biggest profit maker, was 5.47 trillion won, down from a record 6.7 trillion in the prior quarter, and roughly flat year-over-year.
The company also said it planned to cut its mobile marketing budget after heavy spending also impacted its fourth-quarter profits, reported Reuters. It will also look to make its marketing spending more efficient.
Analysts interviewed by Bloomberg blamed growth in Apple's iPhone line, which saw the iPhone 5s and 5c launch early in the quarter. Apple is scheduled to announce its earnings on Monday.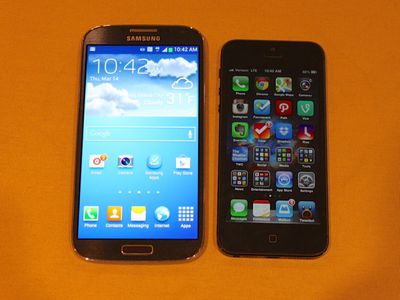 Samsung Galaxy S4 (5-inch display) with Apple iPhone 5 (4-inch display)
"Samsung's two major challenges for 2014 are to maintain its mobile-phone leadership in China and the U.S., while simultaneously growing its tablet business quickly enough to knock Apple iPad from its perch," [Neil Mawston, an executive director at researcher Strategy Analytics,] said.

The company shipped 9 million units of the S4 in the fourth quarter, according to a Jan. 8 report from Daewoo Securities Co., lower than its earlier estimate of 13 million units, released on Dec. 23. In the third quarter, Samsung sold 17 million units, Daewoo said.
Apple is rumored to have sold more than fifty million iPhones in the fourth calendar quarter. Apple is not expected to update its iPhone line until next fall.
Samsung announced that it would launch a new version of its flagship Galaxy smartphone by April, alongside the second version of its Gear smart watch.
(Image courtesy Business Insider)