Apple is creeping closer to opening a new flagship store in Toyko's well-known Omotesando district. Previously reported to be scheduled for a March 2014 opening, an image of the store published by Mac Otakara shows significant progress has been made on the store. Although wrapped in a black shroud, the exterior of the building is starting to take shape, with the building appearing to bear a resemblance to the Apple's new Stanford store.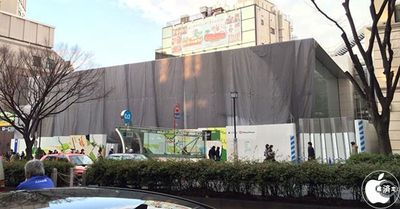 Just like the Stanford location, the Omotesando store appears to have floor-to-ceiling glass walls and a thin steel roof. Mac Otakara notes that the glass front and sides stand out from the silver-colored metal eaves. This same design is also evident in Apple's new stores planned for Portland, Oregon and Aix-en-Provence, France.
The Omotesando location will feature 20,000 square feet of floor space spanning three floors. Two of the floors will be underground, while the top floor will be above ground. Apple has been hiring employees to staff the store for over six months, and it will be the first new store Apple has opened in Japan since 2006.
The opening comes as Apple is seeing strong iPhone sales in Japan, with estimates from Kantar Worldpanel indicating that the iPhone 5s and 5c accounted for 76% of smartphone sales in the country in October, just after their debut.