New 'Umoove Experience' iOS Game Demos Face and Eye Tracking Technology
Umoove, an Israeli startup developing mobile-based face and eye-tracking technology, today released a new game that demonstrates its current work on tracking using the iPhone's front-facing camera.
Umoove Experience: The 3D Face & Eye Tracking Flying Game is a simple app that allows users to fly through a village using gentle head movements that are detected by the camera. The goal is to collect potion bottles scattered throughout the landscape by turning and moving up and down with head movements. The game also incorporates touch gestures at the same time for an all-encompassing gaming experience, with the touches used to control flight speed.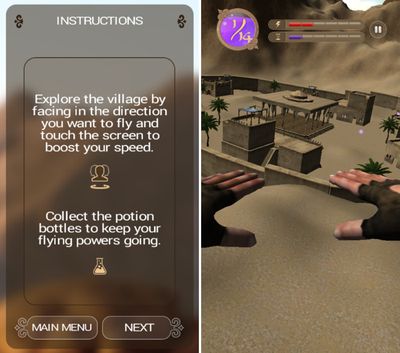 Enjoy the 3D flying experience and test your skills by collecting the purple magic potions, which will give you more energy to continue exploring the village.

The Umoove Experience is only the beginning! Think about the potential of this technology on other app and gaming experiences such as first person shooters, driving games, and other flying or running gaming experiences.
Umoove has been developing its head and eye-tracking technology since 2010, and the current game serves as a simple demo highlighting the ways the system could be used in other apps and games in the future. As in the game demo that combines head movements with touch, Umoove's goal is to supplement traditional touchscreen controls rather than replace them.
In an interview with TechCrunch, Umoove CEO Yitzi Kempinski notes that the addition of head-tracking to standard touch controls is meant to mimic real-world experiences.

"We're talking about adding another layer on top of touching, similar to what the mouse did with the keyboard — they didn't throw out the keyboard, it actually added suddenly the ability to have another layer of interaction, so it's the same sort of thing here," says CEO Yitzi Kempinski.

"It's supposed to be something that mimics real-world experience. I'll give you an example… if you think of a first-person shooter, those games you play and you have to shoot, and then you have the joystick to move around and you have to drag the screen to move around the room. Basically what we do is simple: based on where you face that's where you're aiming."
Umoove is currently offering indie developers a free SDK to incorporate face-tracking into their own apps and games. According to Kempinski, Umoove is also talking with OEMs about adding the technology into future devices.
Motion tracking using the iPhone's camera has been explored in the past, with two French researchers detailing a system for head tracking using an iOS device's camera back in 2011. Apple has expressed interest in similar technology in the past, with a 2009 patent detailing face-controlled 3D displays, and it has implemented accessibility options in iOS 7 allowing iPhone users to control their devices using head movements.
Umoove Experience: The 3D Face & Eye Tracking Flying Game can be downloaded from the App Store for free. [Direct Link]