New Accessibility Options in iOS 7 Allow iPad or iPhone to Be Controlled with Head Movements
This afternoon, a tipster who spoke to 9to5Mac pointed out a new feature in iOS 7's Accessibility menu, which allows iPhone users to control their devices using head movements.
The option can be found in the Switch Control area of the Accessibility menu, which is designed for users who need assistance with physical and motor movements.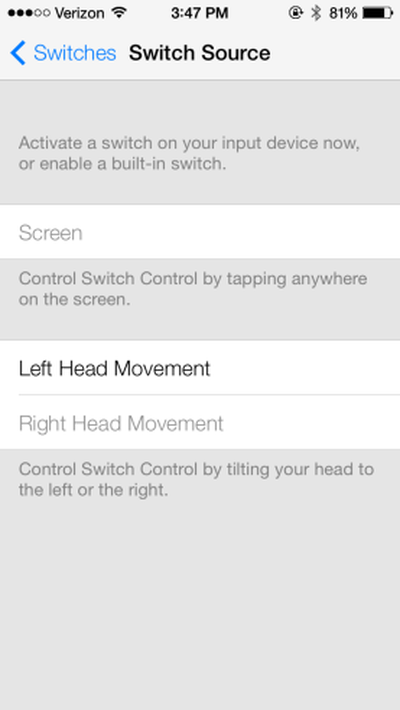 Switch Control allows you to use your iPhone by sequentially highlighting items on the screen that can be activated through an adaptive accessory.
With the feature activated, specific movements can be used to correspond with actions. For example, the setting can be programmed to allow a left head movement to activate a tap, while a right head movement can be programmed to perform to another function. 9to5Mac went hands-on with the feature:
We've tested this ourselves and found it to be quite accurate, but it's quite tedious to control your device this way since it cycles through all of the options on the screen and you move your head when it is bordering around the option you want.

You can also make the left or right head movement act as a home button, start Siri, open Notification Center, open the App Switcher, decrease volume, increase volume, or simply tap.
It is important to note that Switch Control head movements are a beta function and should be used with caution, as the setting disables touch input.
Apple has always had a heavy focus on accessibility, and over the years has worked to provide accessibility options for vision, hearing, motor skills, and learning, turning the iPad and the iPhone into fully featured assistive devices. iOS 7 promises to bring even more accessibility options, further increasing the utility of Apple's devices.