Entry-Level Mac Pro Offers Comparable Pricing Versus OEM PCs, DIY Systems More Affordable
Anandtech today published its comprehensive review of the Mac Pro, including a price comparison between the Mac Pro and similar systems from competitors HP and Lenovo.
When comparing the entry-level 3.7GHz quad-core Mac Pro with dual AMD FirePro D300s to both the similarly specced HP Z420 and the Lenovo ThinkStation S30, Anandtech found the Mac Pro to be competitively priced at $3248 (priced with AppleCare) vs. $4490 for the HP and $4373 for the Lenovo.
While there are some important distinctions between the computers, such as the fact that the HP system only offers a single FirePro W7000 and supports more displays, the pricing experiment suggests that Apple's pricing is in line with other Ivy Bridge EP systems.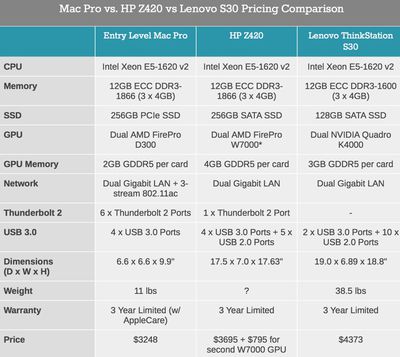 As I learned last time, there are typically some hefty discounts associated with workstation orders so take this pricing with a grain of salt. I also had to fudge the HP numbers a bit as I can only get a single FirePro W7000 in the Z420 configuration - I just doubled the W7000 adder in order to simulate what a theoretical dual GPU version would cost. There are other imbalances between the comparison (HP supports more displays, Apple features more Thunderbolt 2 ports, FirePro W7000 features ECC GDDR5, etc…), but the point here is to see if Apple's pricing is out of touch with reality. It's not.
While Apple's pricing is competitive with similar PCs from HP and Lenovo, AnandTech found that building a comparative PC from individual parts was far less expensive, at least for lower-end systems. Pricing out an option with an Ivy Bridge E Core i7 PC with 12GB of RAM, two FirePro W7000 GPUs, and a fast SATA SSD came to $2730, a good bit less than the approximately $3499 a similar lower-end Mac Pro would cost from Apple.
AnandTech did not price out a higher-end DIY system, but earlier this month, FutureLooks attempted to build a PC equal to the top-of-the-line 12-core Mac Pro with 64GB of RAM, 1TB of flash storage, and Dual AMD FirePro D700 GPUs. Using similar parts (several Mac Pro parts – like the FirePro GPUs – were built exclusively for Apple) a PC equivalent to the high-end Mac Pro was actually priced at $11530.54, far above Apple's asking price of $9599 for its professional workstation.
AnandTech's full review, which includes benchmarks comparing the Mac Pro to previous Mac Pros and other offerings from Apple as well as comments on 4K displays, is well worth reading.