Evad3rs Again Speak Out on 'Evasi0n' iOS 7 Jailbreak Controversy, Claim No Money Exchanged
Ahead of Christmas, the evad3rs released the evasi0n jailbreak for iOS 7, allowing Apple users with newer devices like the iPhone 5s, 5c, and Retina iPad mini to jailbreak their devices for the first time to access tweaks and apps outside of the App Store.
Shortly after the jailbreak was released to the public, controversy surfaced with Cydia administrator Jay Freeman noting that evasi0n did not include an official version of Cydia, an iOS application that allows users to install software on jailbroken devices. Freeman also revealed that the jailbreak inexplicably included a third party app store called "Taig" for Chinese users.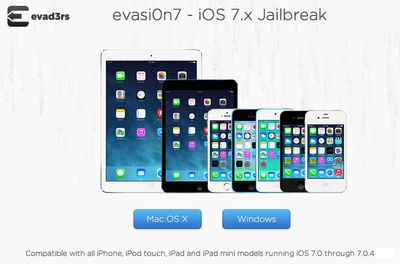 The Taig app store was quickly found to include pirated apps, prompting the evad3rs to explain their position via an open letter claiming no knowledge of the piracy and pledging to further investigate the issue.
Now the evad3rs have published a second open letter to the jailbreak community, announcing the removal of the Taig app store from the evasi0n jailbreak.
However, after investigation and after notification from the community, we found examples, including pirated tweaks, Apple App Store apps, and even pod2g's PodDJ app. We dropped the ball on this. While we at first did not believe Taig purposefully violated our agreement, the depth of the transgression against the software developers and the jailbreak community cannot be overlooked and we could not move forward after that even if it were fixed.

We terminated our relationship with them. We are very disappointed that they have decided to put up a cracked version of the jailbreak on their site that installs Taig. We did not give them any permission or source code.
Following the controversy, there were rumors that the evad3rs had accepted money from Taig for the deal, which the evad3rs now deny. "We have received no money from any group, including Taig," reads the letter. "Our donations are being given to Public Knowledge, Electronic Frontier Foundation and Foundation for a Free Information Infrastructure to help protect jailbreaking as your legal right."
The evad3rs team also clarifies that no user data was obtained by Taig, and that exposure was limited to users who had their computer's language set to Chinese.
The evasi0n jailbreak, which no longer includes Taig, can be downloaded directly from the evasi0n website. Evasi0n does not include an official version of Cydia, and according to the evad3rs, they are "working hard to fix the problems with the jailbreak."