Wireless 'Desk Free' Computer System with Projection Display Detailed in New Apple Patent
Apple has been awarded a patent by the U.S. Patent and Trademark Office (via AppleInsider) detailing a wireless "desk-free" computer system that consists of only a computer housing with a built-in unique smart projector including advanced capabilities.
The patent, which was filed in 2008, details a computer system housing a unique projector with advanced technology that would hold the same power as a desktop or laptop. The smart projector would also allow the "computer" to be set up anywhere, allowing any suitable surface to be used for a display screen.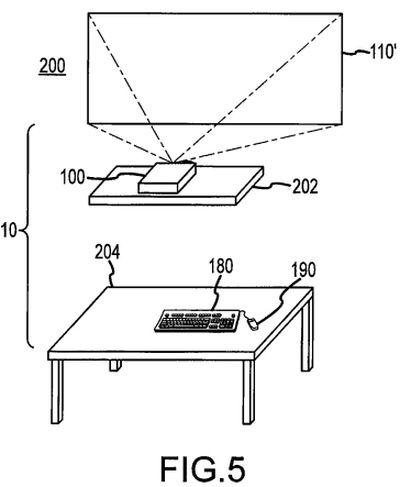 The computer systems and methods described herein may achieve a synergy that is not possible with conventional computers and projectors, which may be realized in terms of the operating system, system interaction, and/or performance. This may stem, for example, from the computer system's knowledge of the computer system's projection output and the surface on which it is projecting. The operating system may be designed to include larger icons and/or text and/or a different style based on the knowledge that the user is likely further away from the displayed image than conventional computer experiences.


In detail, the projector would also be configurable to run solely for certain purposes, such as turning off all components except the DVD drive and the projector to run as a mobile cinema, or turning off certain components to run like a normal computer. The projector itself would also be able to automatically calibrate and perform keystoning on itself to provide the best picture possible based on sensor data, even going as far to color correct and discard lesser pixels to display a high-resolution image.


Meanwhile, Apple describes the computer system as also allowing for peripherals such as a wireless mouse or keyboard to be connected, with the device as a whole being powered in a number of potential ways, such as having a single power cord to connect to a power supply or through the inclusion of an inductive wireless charge system or integrated batteries.
It is unknown whether Apple plans to create such a product or not, but the company has researched unique projector technology before. A patent in 2011 revealed the company's interest in developing a pico projector that would be able to take advantage of built-in cameras to automatically recognize and adjust gestures and shadows, which would result in interactive uses for situations such as presentations. Apple also currently includes a section for presentation accessories in its online store, where it sells various projectors from manufacturer Epson.