First 20Gbps Thunderbolt 2 RAID Arrays Now Shipping Ahead of Mac Pro Release
PROMISE Technology is now shipping its Thunderbolt 2 RAID systems ahead of the new Mac Pro's promised December release. The arrays were first announced back in October but are now available through a number of retail channels.
The Pegasus2 line of RAID arrays allow for simultaneous transfer and display of 3D and 4K video files. They work with the new MacBook Pro with Retina display released in October, as well as the new Mac Pro when it launches later this month.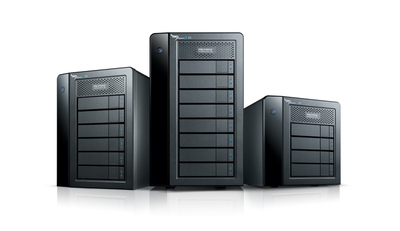 "Pegasus2 is truly one-of-a-kind, as there has never before been a storage solution that offered such an incredible combination of performance, mobility, and simplicity," said James Lee, CEO, PROMISE Technology. "We are thrilled that Pegasus2 is the first storage solution available with Thunderbolt 2 -- this further illustrates PROMISE's position as a leader in Thunderbolt technology."
The Pegasus 2 is available in 4-bay, 6-bay, and 8-bay configurations with 8TB, 12TB, 18TB, 24TB and 32TB capacities through the Apple Online Store and elsewhere. Pricing ranges from $1,499 to $4,599, though some retailers are offering modest discounts off PROMISE's MSRP.
- Pegasus2 R4 (4-bay): Diskless $699, 4x2TB $1,499
- Pegasus2 R6 (6 bay): 6x2TB $2,299, 6x3TB $2,999
- Pegasus2 R8 (8-bay): 8x3TB $3,599, 8x4TB $4,599
The new Mac Pro, which will include six Thunderbolt 2 ports, is expected to begin shipping later this month.