MacRumors Roundup: What We Expect for iPhone 6
The iPhone 5s and iPhone 5c have only been out for a few months, but attention is already turning to Apple's plans for the next generation of iPhone, likely to appear in late 2014. Rumors have indicated that a larger, perhaps curved, display may be one of the key features of the next iPhone, which is generally being referred to as the "iPhone 6" by the rumor community.
Rumors about the iPhone 6 and a potential successor to the iPhone 5c will undoubtedly escalate in the coming months, so MacRumors has put together a new iPhone 6 roundup to help readers stay on top of the latest reports.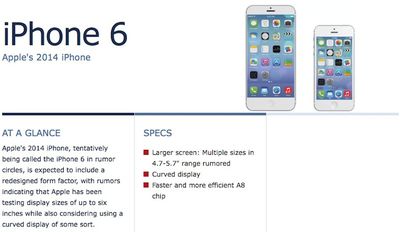 As with our other roundups, the goal of our iPhone 6 roundup is to simply answer the question of "What are you expecting" for Apple's next iPhone at any given time. That opinion is certain to change over time as new rumors are revealed, and our roundup will be updated regularly to reflect the latest rumors.
All of our roundups continue to be accessible through a dedicated index page showing a full list of our available roundups ordered by most recently updated, as well as directly through the "Roundups" tab in the navigation bar on all MacRumors pages.