FileMaker Pro 13 Prematurely Appears on Apple's Online Store [Updated]
Nearly 20 months after the launch of FileMaker Pro 12 by Apple subsidiary FileMaker, Apple appears to have prematurely revealed the upcoming debut of the next-generation database software, FileMaker Pro 13, with new entries in its online stores in several countries. Several versions of FileMaker Pro 12 are also shown as discontinued in those stores, while the new versions are listed as shipping "within 24 hours" despite no official announcement of their launch having been made yet.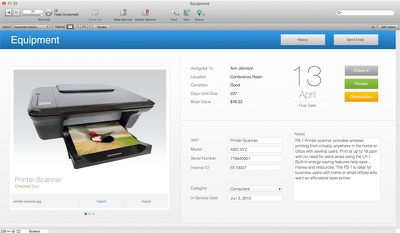 Screenshots accompanying the new listings show a new "Share" button in the toolbar, as well as an iOS 7-styled makeover for the FileMaker Go apps for iPhone and iPad. The listings otherwise appear to primarily be placeholders for the time being, using the same box art as their predecessors with the exception of replacing "12" with "13". Product descriptions are also fairly generic, lacking any discussion of new features or other details on the upcoming software.


FileMaker Pro 13 versions currently showing in Apple's UK online store include:
- FileMaker Pro 13 for iPad, iPhone, Mac, PC and web (£286.95)
- FileMaker Pro 13 for Non-Profit and Education (£199.95)
- FileMaker Pro 13 Advanced for iPad, iPhone, Mac, PC and web (£454.95)
- FileMaker Pro 13 Advanced for Non-Profit and Education (£272.95)
New versions of FileMaker Server are not currently listed in Apple's stores.
In addition to FileMaker Pro, FileMaker had previously offered a series of consumer-focused Mac and iOS database apps under the Bento name, but that line was discontinued several months ago.
Update: Apple has removed the FileMaker Pro 13 listings from its online stores.
(Thanks, John!)