FileMaker Inc, a subsidiary of Apple, has announced in a statement that it will stop offering Bento, the consumer-friendly version of its popular Mac and iOS database software, in order to focus on its flagship FileMaker product line.
FileMaker, Inc. is increasing its focus on FileMaker Product Line software. Thanks to the ease of creating iPad and iPhone solutions, our customers' use of FileMaker on iOS is growing rapidly. Our increased focus will create an even better experience for these customers.

As part of our sharpened focus, we will stop further development of the Bento consumer products.
The announcement, which was spotted by The Verge, comes more than 2 years after FileMaker released Bento 4 for the Mac, with an iPad version appearing in June 2012. Since then, the product has only seen updates for minor improvements and bug fixes, with no new major features released. FileMaker will stop offering Bento in both the Mac and iPhone/iPad App Stores as of September 30 of this year and both products will continue to be supported up until the end of July 2014, according to a post on FileMaker's technical support page.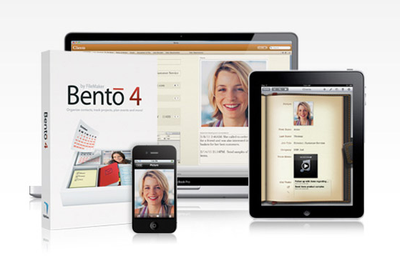 The decision about why FileMaker chose to concentrate on its professional line is unclear, but the company has provided instructions on how to migrate existing Bento data over to FileMaker Pro. Users of Bento are also entitled to a $120 discount when buying the full version of FileMaker Pro for a limited time only.
Although FileMaker Pro is certainly more feature-rich than Bento, there are several features missing, such as integration with the Contacts, Calendar and iPhoto applications within OS X, as well as synchronization over Wi-Fi across different devices.