Apple Launching 'Apple Store' App for iPad
Nearly three and a half years after the debut of a dedicated Apple Store app for iPhone, Apple is launching a new iPad version of the application today, reports TechCrunch. The new app, which appears to be U.S.-only for the time being, offers a "sparse" iOS 7 design aesthetic and makes use of high-quality images and context-aware panels to offer an exceptional user experience.
Where things start to get interesting is the way that the app handles context on the individual item purchase page. When you're presented with an item selection screen on the iPad, for instance, you've got color, storage and connectivity sections, as well as specs, box contents and warranty info. If you tap on a color, you see the color options in the right-hand pane (or top pane in vertical mode). Tapping on storage gives you a contextually aware pane on the right that explains the size choice and why you might pick one over another. The same goes for WiFi or cellular options.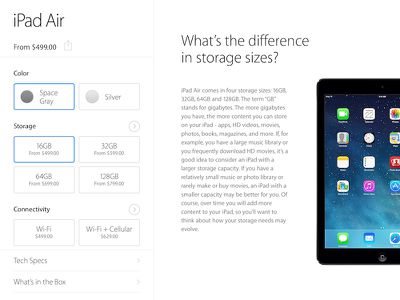 Gesture-based interactions include the ability to slickly swipe through a product's images right on category pages, while pinch gestures allow users to move between large and small grids of products. Exclusive to the new iPad app is a "Now Trending" section that uses algorithms to automatically highlight products seeing strong popularity in the store at any given time.
Apple's iPad app does not offer the same level of retail store integration seen with the iPhone version of the app, such as EasyPay and location-aware Genius Bar check-ins, as the iPad app is focused on home use rather than mobile, but the iPad app does provide convenient access for selecting store locations and viewing and booking appointments.
Apple Store for iPad is available now in the App Store for free. [Direct Link]