In early September, Adobe rolled out the Photoshop Photography Program, a $9.99 per month subscription that included access to Photoshop Creative Cloud, Adobe Lightroom, 20GB of online storage and a membership to Adobe's Behance portfolio website.
At the time, it was only available to current owners of Photoshop CS3 or higher, but the company is temporarily expanding the program to all purchasers, regardless of their previous purchase history with Photoshop. Anyone can get the membership for $9.99 per month -- albeit with a one-year plan -- if they sign up by December 2.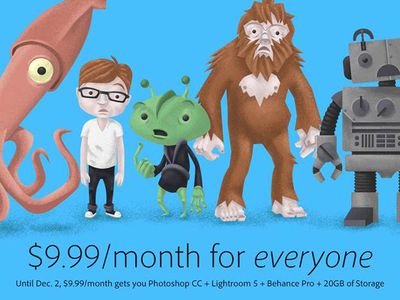 For a limited time, you can join a special Creative Cloud plan. It includes access to Photoshop CC and Lightroom 5, plus feature updates and upgrades as they are available, 20GB of cloud storage for file sharing and collaboration, and a Behance ProSite. And it's just US $9.99/month when you sign up for a one-year plan, but you need to join by December 2, 2013. Questions? See our FAQ and terms.
The Photoshop Photography Program is available through Adobe's website.
The standard Photoshop Creative Cloud membership for new users is $19.99 per month, and does not include Lightroom.
Update: Adobe has extended the promotion through December 8.
Update 2: Adobe has once again extended the deal until December 31.