As the beginning of the holiday shopping season grows closer in the United States, ifoAppleStore is reporting that several high-profile Apple Stores around the country will be be open on Thanksgiving Day in order to help drive sales for the company. The move marks an expansion from last year, when only a pair of tourist-heavy Apple Stores in Honolulu and Las Vegas were open on Thanksgiving, with Apple working on arrangements for employees to take on holiday shifts.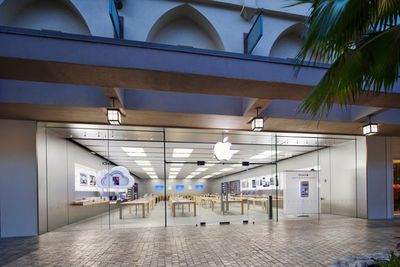 Apple Retail Store located at the Ala Moana Center in Honolulu, Hawaii
According to insiders, over the past few years several Apple retail market directors have been advocating for more stores to be open on Thanksgiving, believing the company was missing out on substantial holiday sales. Apparently their viewpoint prevailed this year, and at least 10 stores will be open some portion of Thanksgiving. Employee schedules to cover the holiday shifts were being prepared over the last two days. Other retailers have drawn criticism from employees for their open-on-Thanksgiving policy, saying it takes them away from their families on the holiday. However, the retailers have said they will try to accommodate employees with alternate time off.
While the list of stores scheduled to be open on Thanksgiving may still expand, it currently includes the following locations:
- Fifth Avenue (NYC)
- West 14th Street (NYC)
- North Michigan Avenue (Chicago)
- Lincoln Road (Miami Beach)
- San Francisco (Calif.)
- Pioneer Place (Portland, Ore.)
- The Grove (LA)
- Third Street Promenade (Santa Monica)
- Fashion Valley (San Diego)
- Ala Moana (Honolulu)
Apple's retail stores posted strong results last quarter, posting $4.5 billion in revenue during the timeframe. The company also traditionally begins the holiday shopping season at its locations with a one-day shopping event during the traditional Black Friday kickoff to the holiday shopping season, which falls this year on November 29. Big box retailers such as Target, Walmart and Best Buy have already advertised upcoming discounts on popular Apple products, with more deals expected to be announced in the coming weeks.
Update: ifoAppleStore has updated its report to state that upon learning of the effort to open stores on Thanksgiving, Apple CEO Tim Cook has canceled it, citing the need for employees to be with their families.