Nike's second-generation FuelBand SE is now available for purchase from the Online Apple Store and is available from select retail locations beginning today according to Apple's Personal Pickup options.
The FuelBand SE looks similar to the original Nike FuelBand, but adds colored accents in yellow, pink, and red. It also incorporates Bluetooth LE (4.0), which significantly cuts down on power usage when paired with the iPhone 4s or later. Like the original, the FuelBand SE is designed to track movement and activity.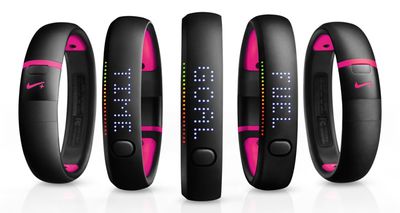 NikeFuel is a single, universal way to measure all kinds of activities—from your morning workout to your big night out. This uniquely designed metric applies to whole-body movement no matter your age, weight, or gender.

FuelBand tracks how much, how often, and how intensely you move. So go ahead and set a daily NikeFuel goal for how active you want to be. You'll receive move reminders for an extra push to get you moving every hour. And monitor the intensity of your workouts with NikeFuel Rate and Nike+ Sessions.
A new clock mode displays the time with the tap of a button, and the band works in conjunction with the Nike+ FuelBand app, which was recently updated with new customization options, Nike+ Sessions, Nike+ Groups, and new trophies to earn.
Improvements to both the FuelBand SE and Nike's NikeFuel points system allow users to track more activities than ever before and the band also incorporates movement reminders when it detects too much idle time.
Nike also debuted its Nike+ Move app yesterday, which is designed to take advantage of the M7 motion coprocessor in the iPhone 5s.
The Nike+ FuelBand SE is available in three sizes and four colors for $149.95 from Apple's website. The FuelBand SE is set to launch officially on Wednesday, November 6.