Updated 'Remote' App With iOS 7 Redesign Hits App Store
After several leaks hinting at its upcoming release, Apple has pushed an iOS 7-inspired redesign of its Remote app to the App Store.
The new app, which allows control of iTunes and Apple TV products directly from the iPhone and iPad, has been completely redesigned for iOS 7 and adds support for iTunes 11.1. The last major update to Remote came nearly a year ago with support for iTunes 11, with a bug fix release coming this past January.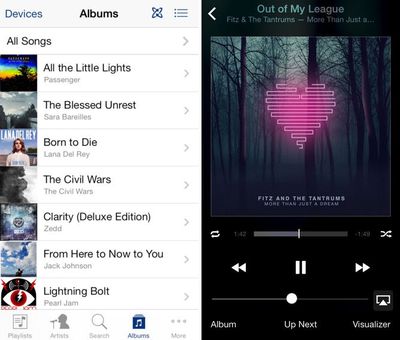 Remote is designed to be in perfect sync with the new iTunes. It is simpler, easier, and gives you new ways to browse your library and see upcoming songs with Up Next. With just a few taps on your iPad, iPhone or iPod touch, you can add new songs to hear them next from iTunes on a Mac or PC, or an Apple TV. Choose playlists, songs, and albums as if you were in front of your computer or Apple TV. Or play them from iCloud with iTunes Match on Apple TV. Change a song, pick a playlist, or browse your entire library from anywhere in your home. Control your Apple TV with the flick of your finger or use the keyboard to quickly tap out a title instead of clicking letters on the Apple TV screen.
Aside from Remote, iBooks, iTunes U and Find My Friends are still awaiting iOS 7 redesigns.
Remote is a free download from the App Store for the iPhone and iPad. [Direct Link]