Popular delivery notification tracker
Delivery Status touch
has received a
significant update
and redesign for iOS 7, adding new features such as background notifications for tracking info, iCloud sync capabilities, barcode scanning and AirDrop support. Other features such as calendar support, 1Password integration, additional sorting options and archiving have also been included in the latest update to the app.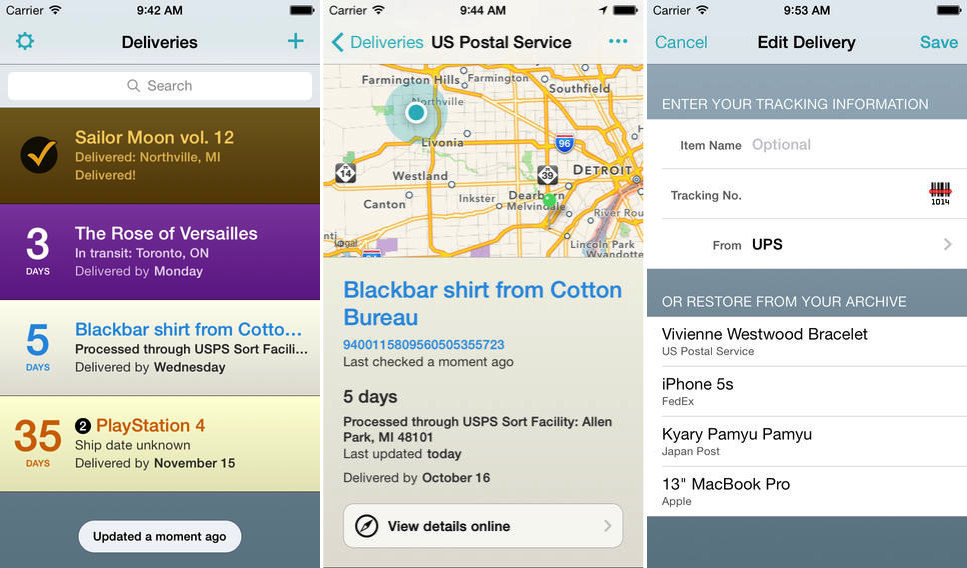 Delivery Status helps you keep track of all your packages, so you always know when they're going to arrive. The main view shows the latest status of all your packages, and counts down to the estimated delivery date. Tap a delivery for more information, and to see where it is on a map. If you like you can view the shipping company's web page, or easily share your shipment over email, text message, or AirDrop. On iOS 7, Delivery Status can even update in the background, or add your estimated delivery dates to your calendar.
First launched in 2008,
Delivery Status touch
has grown to support over 30 services, including both domestic and international post offices, package delivery companies, and websites.
Delivery Status touch
is a $4.99 app for iOS devices, and can be downloaded through the App Store. [
Direct Link
]