Nest, the company behind the iPhone-connected Nest Learning Thermostat, is working on developing a smoke detector, reports former Wall Street Journal journalist Jessica Lessin. While information is scarce on the smoke detector, it will presumably be controlled via an iPhone app similar to the Nest thermostat. According to AllThingsD, the product will be called "Protect."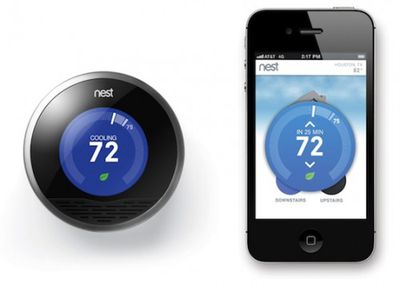 The device will be the technology company's latest trojan horse into your home, which it wants to make as easy to control as a computer or smartphone. Think of it as the next node in the home network Nest is building device by device with the original thermostat as the hub.
According to Lessin, the smoke detector will have a lot of "neat" features that go beyond traditional smoke detecting, including a possible subscription monitoring service to remotely alert users if smoke or fire is detected (AllThingsD disagrees, saying the product will not include a subscription service). It may also interact with the Nest thermostat and detect carbon monoxide.
One person said the device could communicate with the Nest thermostat, giving it a longer battery life by eliminating the need for it to have its own battery-draining wi-fi chip. We also hear that Nest has discussed features like the ability to silence the alarm by waving a hand in front of it and the ability to detect carbon monoxide.
iPhone-connected home devices have been growing in popularity in recent months. In addition to the Nest thermostat, there are a range of other iPhone-controlled products available, including the Philips Hue lighting system and a number of automatic locking systems like the Lockitron and the August Smart Lock.
Nest's current product, the Nest Learning Thermostat, can be purchased from the Apple Store and other retailers for $249. Though there's no prospective release date on the smoke detector, Lessin's sources suggest that it could be released as early as this year.