iPhone 5s Outsells iPhone 5c by ~3.5x in Launch Weekend According to Analytics Data
While Apple announced record-breaking iPhone launch weekend sales of nine million units earlier today, the company did not break down relative sales of the iPhone 5s and iPhone 5c. Analytics firm Localytics has, however, shared some data on usage, revealing that among U.S. users the iPhone 5s is being seen 3.4 times as often as the iPhone 5c.
In less than 3 days, the iPhone 5s and 5c combined now represent about 1.36% of the total numbers of all iPhones activated in the U.S. market across the top 4 carriers AT&T, Verizon Wireless, Sprint and T-Mobile. From the data we are seeing, 1.05% of all iPhones in the United States are now iPhone 5s and just 0.31% are iPhone 5c. That means that the iPhone 5s outshines the 5c by a factor of 3.4x, a clear indicator that the early adopters are favoring the high-end 5s compared to 5c.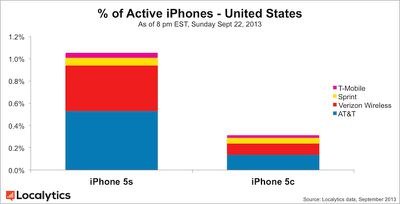 International data shows a similar pattern according to Localytics, with iPhone 5s usage outpacing that of the iPhone 5c by 3.7x, with some countries such as Japan seeing ratios of as high as 5x.
While Apple made the iPhone 5c available for pre-order and has had fairly strong stocks of the device in its retail stores, the iPhone 5s has seen significant shortages, with online orders through Apple's U.S. store currently being quoted October shipping estimates. Gold and silver iPhone 5s models have been in particularly short supply, with even Apple's own retail stores having almost no supply of those devices on launch day.
The disparity in popularity between the iPhone 5s and iPhone 5c is unlikely to persist over the long-term, as the iPhone 5s is more likely to be the device of choice for early adopters who made the effort to purchase the device on the launch weekend, while the lower-cost iPhone 5c will likely improve its relative performance over time as the bulk of customers who are likely to be more budget conscious purchase new phones as they become upgrade eligible.