Apple Executives Speak on the 'Low-Cost Phone', Android's Fragmentation Issues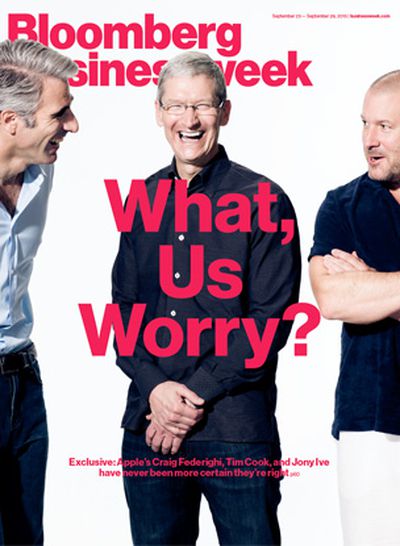 In a lengthy cover story interview with Bloomberg Businessweek, Apple CEO Tim Cook, along with Senior Vice President of Software Engineering Craig Federighi and Senior Vice President of Design Jonathan Ive, discussed a number of topics with the magazine, such as the launch of the new iPhones including the upcoming lower-cost iPhone 5c, and thoughts on competitors, and the recurring accusation of the lack of innovation that the company is said to have had in recent years.
Speaking about the iPhone 5c and the opinion of Apple selling a "low-cost" phone, Cook stated the following:
"We never had an objective to sell a low-cost phone," says Cook. "Our primary objective is to sell a great phone and provide a great experience, and we figured out a way to do it at a lower cost."
Cook also spoke about Android devices and topics such as the market share between the two mobile operating platforms, stating that "It's even more a two-operating-system world today than it was before," and adding to that point "when you look at things like customer satisfaction and usage, you see the gap between Android and iOS being huge." Cook also spoke about Android's device fragmentation, an issue Apple has long pointed to as being a problem for both users and developers:
In Cook's view, the incompatibilities between various Android versions make each an entirely different species. The Android operating systems are "not the latest ones by the time people buy," he says. A recent survey of smartphones sold by AT&T showed 25 Android handsets; six did not have the latest operating system. "And so by the time they exit, they're using an operating system that's three or four years old. That would be like me right now having in my pocket iOS 3. I can't imagine it.

Fragmentation creates complexity and what Cook calls a "compounding problem." "It will show up in developers," he says. "It will show up for people that no longer have access to certain apps. It will show up in security issues because if you're not moving your customer base to the latest version, then you have to go back and plug holes in all of this old stuff, and people don't really do that to a great degree."
The Apple CEO also spoke about the rise and fall of mobile electronics maker Nokia:
If one part of Nokia's story is validating, the other is cautionary. When Apple got into the mobile business, it was Nokia's world. The Finnish company was considered something of a miracle worker. "I'm old enough to remember when Nokia had margins of 25 percent, and there was absolutely no way they were going to be dislodged from their leadership position," says Kuittinen of research firm Alekstra. Says Cook, "I think [Nokia] is a reminder to everyone in business that you have to keep innovating and that to not innovate is to die."

Cook last spoke to Bloomberg Businessweek in December 2012, and discussed the management shakeup at Apple initiated by the departure of former iOS chief Scott Forstall, stating that the changes were "driven by desire for increased collaboration." Apple will begin selling the lower-cost iPhone 5c and iPhone 5s tomorrow, September 20, throughout its retail stores and online store.