Apple Begins Offering 'Last Compatible' Version of Apps for Users Running Legacy Versions of iOS
Apple has begun allowing users on legacy versions of iOS to download the latest version of apps that are backwards compatible with their devices, as highlighted by a user on Reddit (via The Next Web). Specifically, when a user tries to download an app that is not compatible with his or her version of iOS from the App Store , Apple offers the user the option to download an older version of the app that is compatible with the device.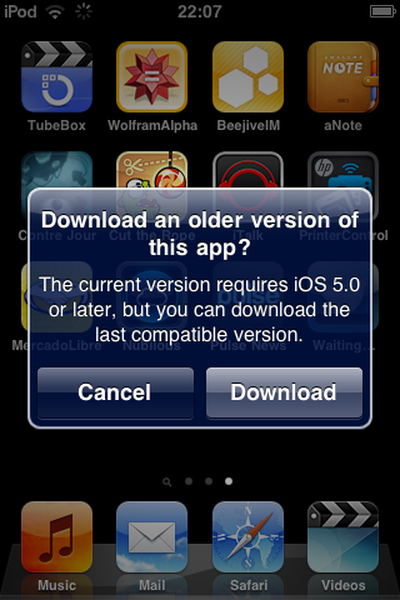 The move comes as Apple is set to release iOS 7 tomorrow, with the new operating system featuring a complete redesign along with a number of new features including an overhaul of multitasking, a new universal settings window known as Control Center, and changes to the Notification Center. With all of the changes coming in iOS 7, some developers are redesigning their apps to be compatible with only iOS 7, and Apple's new system offers one way for users who have yet to upgrade to iOS 7 to continue using apps while also providing reminders that they are not running the most current version of iOS.
iOS 7 will be avaliable for free and will be compatible with the iPhone 4, iPhone 4S, iPhone 5, fifth-generation iPod touch, iPad 2, iPad with Retina Display (third- and fourth-generation), and the iPad mini, along with Apple's new iPhone 5c and iPhone 5s.