A revised construction plan for Apple's flagship retail store in Brisbane, Australia has surfaced nearly two years after the store was originally announced to be built, reports ifoAppleStore (via AppleInsider). Plans for the Australian store were thought to have been abandoned after a bankruptcy filing from a major contractor in 2012 as well as reported problems with the modification of the historic building which the store is to be built in.
The store will be located in the MacArthur Chambers building, a 10-story high-rise that was originally constructed in 1934. Apple plans to make few structural changes to the interior, with the plans showing minor changes to a mezzanine wall, some windows, and a stairway.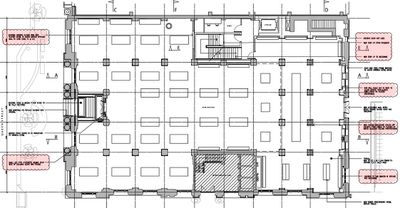 According to the revised landscape plan, Apple is planning to remove a number of structures on the sidewalk in front of the store, like a large pedestrian bench, as well as relocate a tree to create symmetry with the store's front entrance.
The updated filing for the store did not indicate a timeframe for when it would open; however rumors suggest that the location could open in October of this year at the earliest.