High-Quality Photos of 'Champagne' iPhone 5S Rear Shell Surface
Japanese website ASCII.JP [Google translation] has posted new photos allegedly showing the highly-rumored gold color configuration for the iPhone 5S, comparing the device's casing to the traditional color options of the iPhone as well as offering a solo photo from the device's rear. The color of the device appears to be in line with previous reports that stated that the device would have a "champagne" color palette as opposed to an ingot gold look.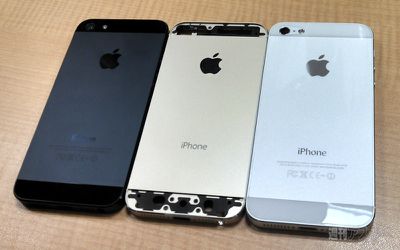 Over the past few weeks, numerous reports have added to the growing chorus of claims for the color option of Apple's upcoming device, with notable tech journalists such as TechCrunch's MG Siegler indicating from his sources that the iPhone 5S would be offered in a gold color. Following that report, AllThingsD and 9to5Mac also reported that gold would indeed be a new option on the device as well, and this latest leak seems to be consistent with those reports.


Apple will reportedly unveil the next-generation iPhone on September 10, with likely to introduce not only the iPhone 5S but also a lower-cost plastic "iPhone 5C". Both devices are also rumored to launch in the first wave of markets on September 20.
Update: AppAdvice has posted some additional high-quality photos of the rear shell of the upcoming 'champagne' iPhone 5S, this time fully assembled with the pill-shaped dual-LED flash window pictured. The site also has a number of part photos depicting the volume buttons and SIM tray.