Find My iPhone Updated for iOS 7, Breaks App for Non-Developers [Update: Fixed]
Apple today released an update for Find My iPhone, adding a newly redesigned iOS 7-style icon. The new icon was first introduced on the iCloud.com beta page, which was updated in mid-August with a new set of iOS 7 icons.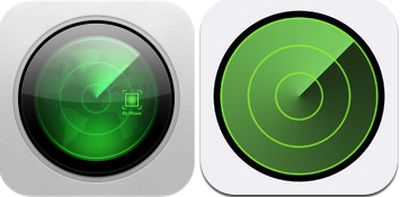 Old icon on left, new icon on right
It appears that the newest version of Find My iPhone may have been released prematurely, however, as the update gives an error message to anyone who attempts to use it without a registered developer account (paid or free).
The update, which also includes bug fixes, will likely be patched by Apple shortly. Until a fix is available, non-developers should avoid updating the app. While Find My Friends was also updated with bug fixes, it does not appear to include any design changes or errors that cause the app to be unusable.
Apple's iOS 7, which is currently available for developers, is expected to be released to the general public in September at the company's iPhone event.
Find My iPhone can be downloaded from the App Store for free. [Direct Link]
Update: According to Apple's System Status page, the error that prevented non-developers from logging into the app has now been fixed.