GOG.com, an online game store that sells vintage titles, has debuted (via TUAW) a new indie game portal to sell indie games to Mac and Windows users, much like the Mac App Store or Steam.
The new portal will not only use the GOG.com staples like DRM-free games and "one world - one price" thinking but also offer additional incentives to developers to entice them to release their games on the new publishing platform.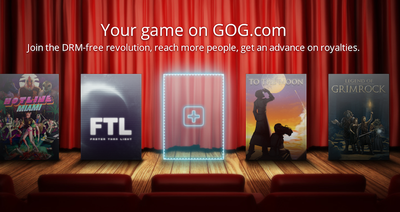 While developers will be able to use traditional revenue splits like the 70/30 developer/publisher that Apple offers for the Mac App Store, they will also be able to opt to receive their royalties in advance. In that situation, GOG.com offers money upfront and then initiates a 40/60 revenue split until the initial payment is returned. Once the advance has been paid off, the revenue sharing model returns to a 70/30 split.
GOG.com also promises to "never leave [developers] without feedback," stating that developers will receive detailed information on game review processes and explanations for rejected apps. The company also promises that each title published will receive a "dedicated cross-media" campaign.
Every time we release a game on GOG.com, it gets a dedicated cross-media marketing campaign. It becomes our site's main feature, with an extra-large header banner and a frontpage news article. We'll also promote the release of your game to thousands of our social media followers (on  Facebook, Twitter and Google+, etc.). We'll post your game's trailer on our YouTube channel and feature it in our weekly video editorial.
GOG's feedback policies appear to be aimed at developers who have complained about the lack of feedback or lack of marketing push in the Mac App Store or Steam.
GOG.com previously released vintage PC games on Windows machines, but has also begun releasing classic PC games on the Mac in recent years. Independent game developers wanting to submit their games to GOG.com can do so on the indie portal website.