'JOBS' Biography Starring Ashton Kutcher Hits Theaters to Mixed Reviews
Joshua Michael Stern's Steve Jobs biography JOBS launched in theaters today, and despite a vigorous marketing campaign that saw actor Ashton Kutcher attending a number of promotional events and interviews, the movie appears to be garnering largely mixed reviews for both its content and the performance of its title actor.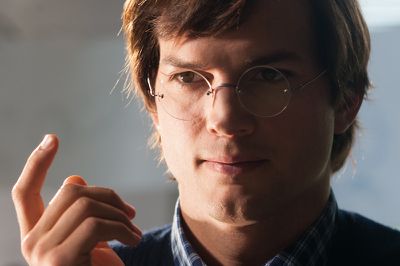 On movie review aggregation site Rotten Tomatoes, JOBS is ranked as "rotten" with a score of 25 out of 100. The Washington Post gave the movie 1.5 stars out of four, pointing out that the movie focuses heavily on Apple rather than on Steve Jobs himself.
Directed by Joshua Michael Stern ("Swing Vote") and written by first-time screenwriter Matt Whiteley, "Jobs" confuses the story of Apple, the company, with the story of its guru and guiding force, spending way too much time on backroom personnel dealings than on encounters that might help us understand, on a deep level, the title character.

The film is so thick with Jobs's career highlights and lowlights that there's little room for insights. What made this famously private man tick?
The New York Times offers a similar opinion of the movie, which it claims has "all the sex appeal of a PowerPoint presentation."
But Mr. Kutcher doesn't have the tools that some actors use to transcend weak material and either he didn't receive any help or didn't allow any real direction from Mr. Stern. Mr. Kutcher's tendency to cap so many emotional scenes with small, self-satisfied smiles is especially unfortunate because they can't help but bring to mind his other career as a pitchman for digital cameras.

The greater blame rests on the filmmakers, who never find a way to navigate the "passions, perfectionism, demons, desires, artistry, devilry and obsession for control" that Walter Isaacson enumerated in "Steve Jobs," his 2011 authorized biography.
Several of Steve Jobs' former colleagues who were present during the events laid out in the movie also weighed in. Apple co-founder Steve Wozniak gave a short review of the film on Gizmodo, where he commended the acting but noted that the film had left out important events and interactions.
I felt bad for many people I know well who were portrayed wrongly in their interactions with Jobs and the company. The movie ends pretty much where the great Jobs finally found product success (the iPod) and changed so many of our lives. I'm grateful to Steve for his excellence in the i-era, and his contribution to my own life of enjoying great products, but this movie portrays him having had those skills in earlier times.
Early employees Daniel Kottke (who was famously awarded no stock options) and Bill Fernandez gave their opinion on JOBS in an interview with Slashdot, pointing out the creative licenses that the film took when telling the story.
Kottke, who collaborated on the film, says that Kutcher was "very good," but that Wozniak was depicted inaccurately. "It portrays Woz as not having the same vision as Steve Jobs, which is really unfair," he says. While he was impressed with the way the movie captured some of the early scenes, such as the West Coast Computer Faire, he does point out that quite a bit of dramatic flare was added.
The early versions were painful. Really painful. I forwarded the first draft to Mike Markkula because they wanted his feedback, and Mike took such a bad reaction to it, he wouldn't have anything more to do with the project.

By the time it got to the fourth draft, it was okay. It wasn't making me cringe. But they still had a scene of me arguing with Steve, which never ever happened, but, you know, in the realm of artistic license. I mean, the dynamic of my relationship with Steve Jobs is he just completely stopped talking to me in about 1980. And that's not cinematic; arguments are much better on the screen.
JOBS is currently showing in theaters around the world, and according to Open Road Films CEO Tom Ortenberg, the movie will debut on Netflix in the spring of 2014. A second Steve Jobs movie, from screenwriter Aaron Sorkin, is also in the works for 2014.