Security researchers from Webroot have revealed a malicious email campaign attempting to trick users into thinking they've received a $200 Apple Store Gift Card. But rather than being a simple phishing effort as is common with such emails, the malicious emails contain malware that can be used to compromise targets' Windows-based machines.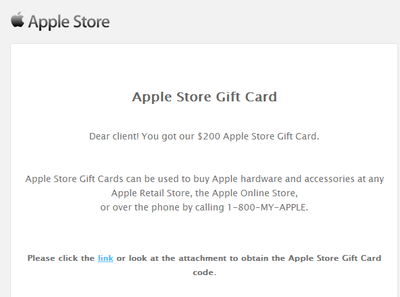 Specifically, when the user clicks on a hyperlink within the email or opens an attachment, a malicious Java-based exploit installs itself onto the computer. The exploit is then used to steal data from the personal computer, opening up the user to the possibility of identity theft and other cyber-crimes.
A currently ongoing malicious spam campaign is attempting to trick users into thinking that they've successfully received a legitimate 'Gift Card' worth $200. What's particularly interesting about this campaign is that the cybercriminal(s) behind it are mixing the infection vectors by relying on both a malicious attachment and a link to the same malware found in the malicious emails. Users can become infected by either executing the attachment or by clicking on the client-side exploits serving link found in the emails.
Earlier this year, a phishing effort compromised over 100 sites in attempt to gain access to users' Apple ID accounts. Last month, researchers from various security firms uncovered a trojan known as Janicab.A that used a special unicode character to initiate email malware attacks. Apple has also regularly dealt with Java-related vulnerabilities by deploying updates for OS X and introduced Gatekeeper in OS X Mountain Lion to better deal with security threats, offering a way for users to restrict installation of apps to those signed by Apple-issued Developer IDs.