Motorola Unveils 4.7-Inch Moto X Smartphone with 24-Hour Battery and Touchless Controls
Motorola today announced its new 4.7-inch Moto X smartphone, which comes equipped with a number of impressive features like a 720p AMOLED Display, Touchless Control via Google Now integration, multiple customization options, and unique camera controls. The phone has been described as Google and Motorola's flagship iPhone competitor.
The Moto X is the first phone where Google is in control of both the hardware and the software, giving the company greater control over the end user experience. Google's Moto X does not utilize a skin like other Android smartphones, but Google does allow carriers to add pre-loaded apps and other software. There will, however, be a Google Play edition available for users who prefer a stock Android experience.
The phone includes the Motorola X8 Computing System, with a Snapdragon S4 Pro processor, 1.7Ghz dual-core Krait CPU and quad-core Adreno 320 GPU. It offers 2GB of RAM, 16GB of storage, a 10-megapixel rear camera, and a 2,200mAh battery that offers up to 24 hours of battery life.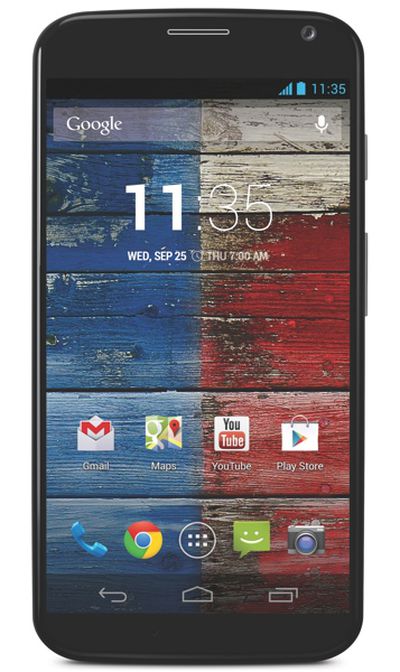 To support its Touchless Control feature, the phone includes a dedicated processor that listens for voice commands while preserving battery life. This feature allows users to obtain weather information, directions, and more with hands-free controls.
Motorola's Moto X also offers a unique "Quick Capture" camera functionality, opening the camera app with a wrist flick. Once open, a picture can be snapped by touching anywhere on the screen.
Though the Moto X is available through multiple carriers, customers purchasing an AT&T version of the phone will be able to customize it, choosing a black or white faceplate with sixteen different back case color options and accents.
The Moto X is set to launch in late August or early September and will be priced at $199 with a two-year contract.