Apple to Release iOS 7 Beta 4 Today, Two More Betas Coming?
MacRumors Forum poster aibnr noticed earlier today that the iOS 7 Beta 4 download appeared to be posted on Apple's developer servers early this morning, ahead of an expected release today. If released today, Beta 4, with a rumored build number of 11a4435d, would come three weeks after Beta 3 was released at the beginning of July.
Clicking the purported download link, available here, returns a 'Your session has expired' error page. Other URLs with similar build numbers, on the other hand, return an 'Access Denied' error message.
Apple is expected to release Beta 4 later today.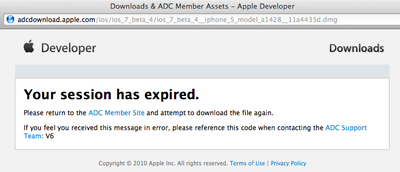 BGR has some additional iOS 7 beta-related claims as well:

Additionally, one source has informed us that the company plans to release just two more betas for developers before the gold master (GM) version is released in early September.
9to5Mac somewhat corroborates this, claiming that Apple is nearing "zero-priority-1 bug status", meaning there are no critical bugs left in the OS and the company is getting close to releasing a "GM1" candidate internally. Apple typically releases several internal GM candidates before releasing a final GM seed to developers for testing.