Apple Awarded Patent That Lets Users Share Content With Others While on Hold
Apple was awarded a U.S. patent on Tuesday that appears to covers a way for iPhone users to share content with each other when phone calls are placed on hold.
The patent, number 8,494,123, is for an "on-hold visual menu from a user's communication device" and describes a system that shares a variety of content like pictures, music, videos, upcoming calendar events, and location information to the person that is being put on hold. For example, someone put on hold could look through the other caller's public Photo Stream.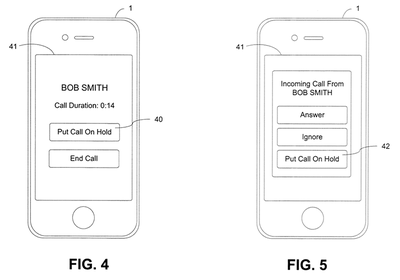 The device determines that the party has been placed on hold and that the user has enabled sharing of personal content with the party. The device then transmits a visual menu to a communications device of the party via a data network, to allow the party to select a type of personal content to receive from the device while the party is on hold. When the device receives a selection from the party's device indicating the type of personal content, it transmits a personal information asset to the party's device according to the type of personal content indicated by the selection. Other embodiments are also described and claimed.
Additionally, privacy settings allow certain types of data, such as location or photos, to be limited within a specific group of people (for example, family members) while automatically sharing other content with all users placed on hold. Content can also be personalized to each specific caller.
When an iPhone owner is ready to continue a call, an on screen message, audible tone, or vibration will occur, alerting the on-hold user that the call will be resumed.

As with all Apple patents, there is no guarantee that the on-hold sharing feature will make it into a final product.