iOS 7 Leverages Retina iPhone App Assets to Improve '2x' Mode on Non-Retina iPads
One of the more subtle changes surfacing in Apple's iOS 7 beta 3 released to developers yesterday is a move to leverage the Retina assets included in iPhone-only apps to improve the viewing experience in "2x" mode on non-Retina iPads such as the iPad mini and the iPad 2.
Since the launch of the iPad, Apple has supported the use of iPhone-only apps on its tablet platform, allowing users to toggle between a "1x" mode where the app appears in an iPhone-sized window in the center of the iPad screen and a "2x" mode where pixels are doubled to allow the app to fill more of the iPad's screen. But up until iOS 6, this 2x pixel doubling has been performed on the non-Retina iPhone versions of the apps for non-Retina iPads, expanding a 480x320 app to fill a 960x640 space on the iPad display and resulting in jagged text and blurry images.
But with the advent of Retina displays on the iPhone supporting apps at 960x640, Apple moved to take advantage of those higher-quality assets to provide a better viewing experience on the iPad for those apps that do not have native iPad interfaces. Since the introduction of the third-generation iPad last year, Apple's Retina iPads have been able to tap into the Retina assets in iPhone apps to display higher-quality 2x apps, and with iOS 7 beta 3 Apple has now brought that capability to its non-Retina tablets.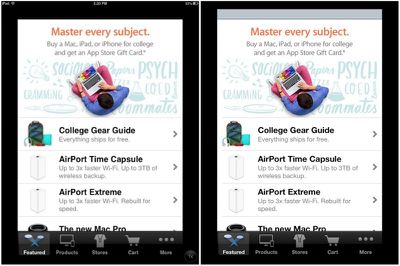 Apple Store app on an iPad mini in 2x mode on iOS 6 (left) and default 2x on iOS 7 (right)
(Click for larger)
Interestingly, on the latest iOS 7 beta users are no longer even presented with a 1x/2x toggle on non-Retina devices such as the iPad mini, and iPhone apps are instead presented simply as 2x apps taking advantage of Retina assets included in the app package. The result is a much better looking 960x640 app on the iPad's 1024x768 screen. Retina iPads have not, however, seen any changes to their handling of iPhone apps and continue to offer the 1x/2x toggle.
Apple's move to leverage the Retina assets in iPhone apps by default is essentially identical to the strategy used by RetinaPad, a jailbreak tweak that provided owners of non-Retina iPads with the higher-quality 2x scaling. That tweak had gained new popularity with the release of the non-Retina iPad mini late last year, but with Apple now building that support directly into iOS 7, all users will be able to take advantage of the higher-quality experience.
Apple announced back in March that as of May 1 it was requiring all app submissions and updates to support both Retina displays and the iPhone 5's taller display, pushing developers to support Apple's latest devices. The Retina support requirement also allows more apps to take advantage of the new 2x improvements for non-Retina iPads in iOS 7.