Apple to Announce Q3 2013 Earnings on July 23
Apple updated its investor relations page today to note that it will announce its earnings for the third fiscal quarter (second calendar quarter) of 2013 on Tuesday, July 23. The earnings release typically occurs just after 4:30 PM Eastern Time following the close of regular stock trading, and the conference call is scheduled to follow at 5:00 PM Eastern / 2:00 PM Pacific.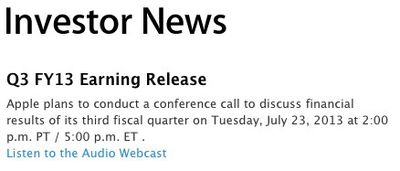 MacRumors will provide running coverage of the earnings release and conference call.
The release will provide a look into the strength of iPhone 5 and iPad mini sales into their third quarter of availability, and perhaps updates on the new products announced at WWDC. Apple's stock price is down some 23 percent year-to-date and roughly 300 points off its highs of last year. Analysts have continuing concerns about Apple's ability to innovate without Steve Jobs, though the current price is up slightly from the previous earnings call.
In the past two July earnings calls, Apple has announced the imminent launch of OS X Lion and Mountain Lion, though there is no indication yet that Mavericks will launch the day after the call.
Apple reported strong results three months ago when it announced a dramatic increase in its share repurchase authorization and a larger dividend payment. Apple should update investors on the progress of its share repurchase program.
Apple provided guidance for the third quarter of fiscal 2013 for revenue of between $33.5 and $35.5 billion and gross margin between 36% and 37%.