The Associated Press reports that yet another working Apple 1 from 1976 is headed to auction, with Christie's placing a $300,000 opening bid and $500,000 estimate on the machine. The machine is owned by Ted Perry, a retired school psychologist from Sacramento, California who acquired it in a swap over three decades ago.
Perry, 70, acquired his Apple 1 in either 1979 or 1980, as a secondhand item he saw advertised.

He paid nothing for it; it was a swap with the owner.

"I traded some other computer equipment I had for the Apple 1," he said.
Perry has kept the machine, which is essentially a single circuit board paired with aftermarket components such as a monitor, keyboard, and tape storage, in a cardboard box, and only recently confirmed that it still functions.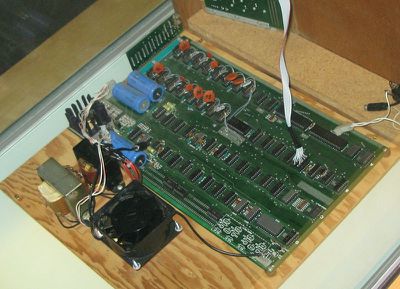 Perry's Apple 1 is one of only a handful of the machines in existence still in operation, although several others have been auctioned over the past year or two. Just last month, one
sold for the equivalent of a record $671,400
at auction in Germany.
The online auction for Perry's Apple 1 begins on Monday, June 24 and runs through July 9. The machine will be on display at the Computer History Museum beginning on Monday.